Registered name:Gun 'Er Down
Barn Name:Gunner
Breed:American Quarter Horse
Gender:Stallion
Age:8 yrs.
Height:15.2 Hhs
Weight:1100 Ibs.
Eye Color: Brown
Coat Color/Pattern: Grullo,dorsal stripe, shoulder stripes, leg barring, ear tips, face cobwebbing, bald face, 3 socks, 1 fetlock
Tempernment:Willing to please, playful, loving
Discipline: Western Pleasure, Reining, trail, cattle
Gaited:No
Endangered:No
Breeding Restrictions:None
Wild:yes
Picture: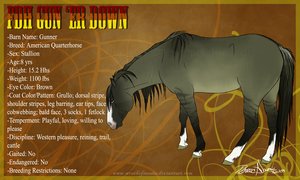 Name-Kipier
Barn name:Kip
Gender- stallion
Breed- Gypsy Vanner
Age:5 yrs.
Height:16 Hhs
Weight: 1700 Ibs.
Eye color: baby Blue
Coat color/Pattern:Grullo,bald face, pant markings,striped hooves.
Tempernment: A gentle giant, willing to please,loveable
Discipline:Carriage pulling
Gaited:No
endangered:No
breeding Restrictions: none
Wild:yes
Picture: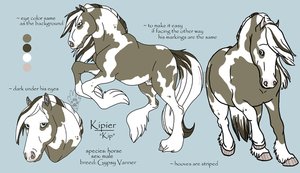 Name:Evita
Breed:Andalusian X Thoroughbred
Gender: Mare
Age: 7 yrs.
Height: 15.6
Weight: 1400 Ibs
Eye Color: Hazel
Coat Color/Pattern: Dun color, darker legs, three socks, star and stripe on face, brown mane and tail
Temperment: Kind, talented, pushover
Discipline: Dressage
gaited: yes
Endangered: no
Breeding restrictions:none
wild:yes
picture: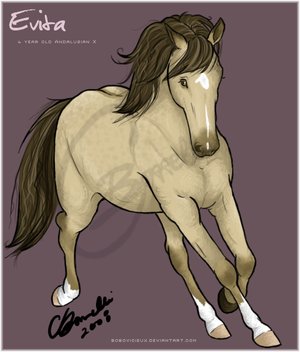 About her:
Name: Razarah
barn name:Raz
Gender: Mare
Age: 3 Years
Breed: Mustang
Coat/Markings: She is seal bay with a white blaze that tapers to the point where her mane meets her forehead. She also has a sock on her left hind leg and a large splotch of white along the bottom of her belly. Her mane and tail are black and very full.
Personality: She is very shy around most that she has never met before, and is unlikely to speak out in a crowd. If she has an opinion she will try to make it heard, but she rarely gets through. If one were to get to know this mare they would find that she has a lot on her mind. Often distant, Razarah can be found staring into the clouds more than she'd like. Though she isn't reclusive, she does spend a lot of time on her own. If in a large group she is easily spotted on the outskirts seeming to be deep in thought. She might just open up if she finds that someone has listened to what she has to say.
gaited:no
endangered:yes
breeding restrictions:none
Wild:yes
Picture: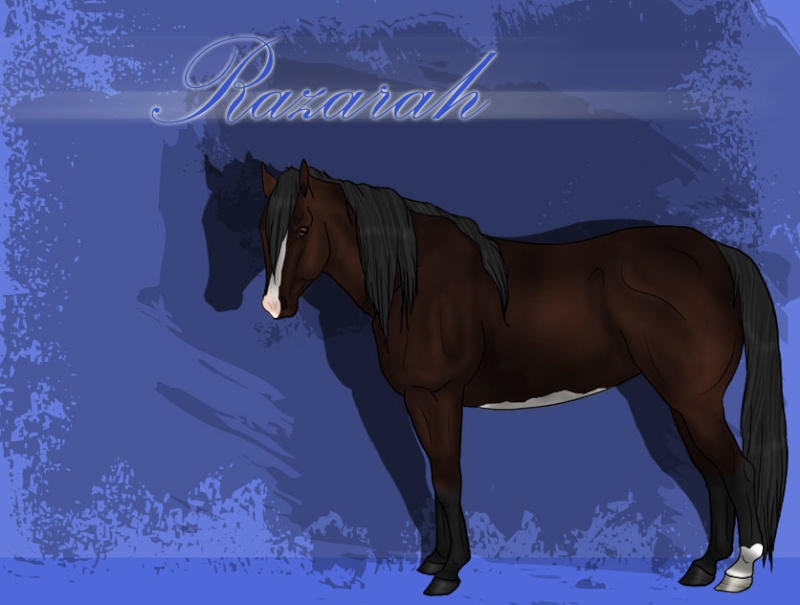 Name:Pendrel
Age:6
gender:mare(female)
breed:Colonial Spanish American mustang
coat color: golden grullo
mane and tail:black
markings:black bald face, black legs,light striping
Story: She was born in the cold, her mother died, and her father had accidently left her behind. She survived her first year alone, and is known to be much tougher than any other mustang mare.
Personality:KInd,sarcastic,serious,friendly
wild:yes
breeding restrictions:none
gaited:no
picture: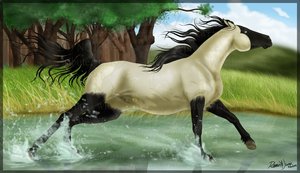 Last edited by EquistrianPro on Sun Oct 25, 2009 12:55 am; edited 5 times in total
I need to know their alliance and also this is wild horses so they aren't tamed or disciplined at all.

_________________
Riding: The art of keeping a horse between you and the ground. ~Author Unknown

People on horses look better than they are. People in cars look worse than they are. ~Marya Mannes

No hour of life is wasted that is spent in the saddle. ~Winston Churchill

Heaven is high and earth wide. If you ride three feet higher above the ground than other men, you will know what that means. ~Rudolf C. Binding
They are all light alliance
Okay you are free to post whenever you wish.

_________________
Riding: The art of keeping a horse between you and the ground. ~Author Unknown

People on horses look better than they are. People in cars look worse than they are. ~Marya Mannes

No hour of life is wasted that is spent in the saddle. ~Winston Churchill

Heaven is high and earth wide. If you ride three feet higher above the ground than other men, you will know what that means. ~Rudolf C. Binding

---
Permissions in this forum:
You
cannot
reply to topics in this forum