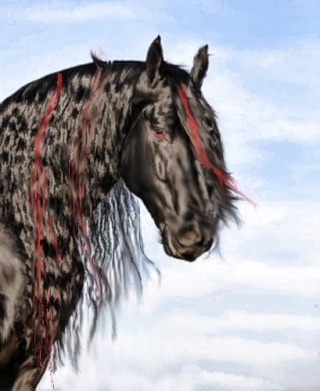 Sophie
Tick, tock, tick, tock, your times' almost up.
Puffing a cloud of cold breath, my forelock brushed away from fatigued tabiries. Pitch black pallet turned forth to the land, brow arched quizzically. Curly tendrils fell unkempt across my arched boa, thick appendai carrying my well-built carcass to the entry. Zephyrs turned upwards warmly, this was were i was now to reside. Twin zeniths stayed pointed towards the dull blue sky, looked like heaven wasn't going to cast more rain soon.
Atramentous carcass performed a perfect pirouette to confront the noises that hit my sensitive zeniths. My paper thins had already smelt it, his scent clung to the air like a disease, so it was kind of obvious that this terratory was already owned by a stag.
I let out out a loud whinny, nodding my head as my talons pawed at the ground, causing dust to rise. Come on, wheres' my welcoming party?

Wispa2008

New Recruit





Posts

: 3


Join date

: 2009-09-14



Demon's Blade heard the whinny and cantered into the view of the mare stopping on a cliff looking down on her, his sweaty black coat with it's purple tinges gleamed in the sun. He reared up and neighed to this newcomer. "And who is it that has entered my land" He asked with a demon like voice that echoed across the canyons.

_________________
Riding: The art of keeping a horse between you and the ground. ~Author Unknown

People on horses look better than they are. People in cars look worse than they are. ~Marya Mannes

No hour of life is wasted that is spent in the saddle. ~Winston Churchill

Heaven is high and earth wide. If you ride three feet higher above the ground than other men, you will know what that means. ~Rudolf C. Binding
I sighed, tabiries rolling obviously. Ah, there you are, i was beginning to think you were not going to come. I frowned at his all too obvious show-off style. I brushed it off with a nonchalent reaction and spoke again, Well, i can just as easily go to another, if i'm not welcome here. See, i don't come all too easily, and if you don't want me i'll go see if another will accept me. Snorting, i performed a perfect pirouette and arched my neck as i walked slightly away. Turning my head, i looked back. I shook my head, removing my matted forelock from my visionaries. Twin towers perked, alert like watchmen atop my dark crown.
I ignored the fact that he showed off, and concentrated on keeping my eyes locked with his, looking for some emotion or anything that would give his game away and give me some sort of advantage. I couldn't tell as the distance was far. But if he thought he was 'all that', He better give me a reason, because quite frankly,
I wasn't at all convinced.

Wispa2008

New Recruit





Posts

: 3


Join date

: 2009-09-14



Blade saw her attitude and knew her kind, always wanting to be the one on top. He saw her turn and start to leave. "All darks are welcome here so unless your light or neutral feel free to roam." He didn't show any kind of feelings for this mare and just locked his eyes on hers waiting to see if she would leave or stay on his land. "Besides no one else would accept a dark mare besides the dark themselves. I must go and see to my son and show him the ways of combat." He then turned and walked off towards his cave.

_________________
Riding: The art of keeping a horse between you and the ground. ~Author Unknown

People on horses look better than they are. People in cars look worse than they are. ~Marya Mannes

No hour of life is wasted that is spent in the saddle. ~Winston Churchill

Heaven is high and earth wide. If you ride three feet higher above the ground than other men, you will know what that means. ~Rudolf C. Binding


Similar topics
---
Permissions in this forum:
You
cannot
reply to topics in this forum